2012 Edition, with Supplement 2015
This work is a mini-encyclopaedia on this very important subject. The case-law covered in this edition has been brought up-to-date till...
HARDBACK:

Rs.795.00

Rs.477.00

|
HARDBACK:

Rs.795.00

Rs.676.00

|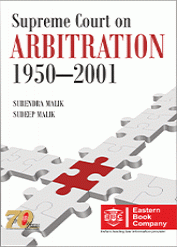 This superb two-volume
Volume I 1950-2001:


Rs.695.00

Rs.626.00

|
Volume II 2001-2012:


Rs.1095.00

Rs.931.00

|
Vols. 1 and 2 (1986-2011), 2011
Vol.3 (2011-2018), 2019 Edition
This superb three- volume Digest is the most authoritative and up-to-date on the subject, covering the complete case law on Consumer Protection, laid down by the...
HARDBACK:

Rs.1895.00

Rs.1421.00

|
HARDBACK:

Rs.395.00

Rs.336.00

|
2nd, (Volume 1 to 4 of 2015 and Volume 5 of 2018)
The present Volume 5 of the digest covers the case-law on the Indian Penal Code, 1860 as laid down by the Hon'ble Supreme Court from...

Click on TITLE to choose available options.
Coverage: From 1950 to 2018 (in 4 Volumes) Volume 1 covering GENERALLY to BANKS (contd.)
HARDBACK:

Rs.3500.00

Rs.2975.00

|
The law governing Marriage, Divorce, Maintenance, Adoption, Guardianship and Custody of Children, Joint Family Property and Succession and Inheritance to property,...
HARDBACK:

Rs.6500.00

Rs.5525.00

|
The present Volume Five, is a continuation volume of the work "Supreme Court on Criminal Procedure Code & Criminal Trial" and brings...
HARDBACK:

Rs.1500.00

Rs.1275.00

|
HARDBACK:

Rs.7500.00

Rs.6375.00

|
Vols. 1,2 and 3 (1950-2014)
Vol.4 (2014-2018),
This comprehensive compendium notonly contains all the rulings of the SupremeCourt on the Evidence Act, 1872 from 1950 till the present, but also contains the full...
Vol 1 and 2, 2014
Vol.3, 2019
This three volumes Digest is designed to be the most comprehensive and analytical Digest of all rulings of the Supreme Court on Education and Universities from...
HARDBACK:

Rs.3085.00

Rs.2622.00

|