Associated with the concept of justice, which has engaged us from time immemorial, are the instrumentalities of "Judicial Power and Judicial Review", the title of this...
HARDBACK:

Rs.990.00

Rs.842.00

|
2009 Edition, Reprinted 2012
"An invasion of armies can be resisted but not an idea whose time has come." — Victor Hugo
eBOOK:

Rs.750.00

Rs.563.00

|
Reprinted 2010 (Deluxe Edition)
"Some people see things as they are and ask why, I dream things as they should be and ask why not?"- Robert Kennedy
eBOOK:

Rs.275.00

Rs.206.00

|
2012 Edition, with Supplement 2015
This work is a mini-encyclopaedia on this very important subject. The case-law covered in this edition has been brought up-to-date till...
HARDBACK:

Rs.795.00

Rs.676.00

|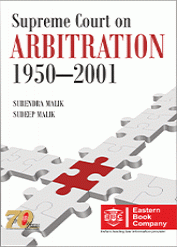 This superb two-volume
Volume I 1950-2001:


Rs.695.00

Rs.626.00

|
Volume II 2001-2012:


Rs.1095.00

Rs.986.00

|
The Supreme Court of India is a venerated institution, half judicial tribunal, half political preceptor. It has often had to negotiate with the dominant yet shifting public...
Bhawani Lal, in this book, narrates sensational trials from among a multitude of criminal and civil cases that he conducted, witnessed and read during his thirty-six...
HARDBACK:

Rs.275.00

Rs.234.00

|