The learned author has made an indepth study of the subject, from its common law origins to a comparison with the concept as available in other leading...
HARDBACK:

Rs.990.00

Rs.842.00

|
"An invasion of armies can be resisted but not an idea whose time has come." — Victor Hugo

Click on TITLE to choose available options.
Reprinted 2010 (Deluxe Edition)
"Some people see things as they are and ask why, I dream things as they should be and ask why not?"- Robert Kennedy
eBOOK:

Rs.275.00

Rs.206.00

|
2012 Edition, with Supplement 2015
This work is a mini-encyclopaedia on this very important subject. The case-law covered in this edition has been brought up-to-date till...
HARDBACK:

Rs.795.00

Rs.477.00

|
HARDBACK:

Rs.795.00

Rs.676.00

|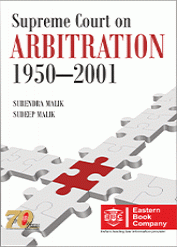 This superb two-volume
Volume I 1950-2001:


Rs.695.00

Rs.626.00

|
Volume II 2001-2012:


Rs.1095.00

Rs.931.00

|
Vols. 1 and 2 (1986-2011), 2011
Vol.3 (2011-2018), 2019 Edition
This superb three- volume Digest is the most authoritative and up-to-date on the subject, covering the complete case law on Consumer Protection, laid down by the...
HARDBACK:

Rs.1895.00

Rs.1421.00

|
HARDBACK:

Rs.395.00

Rs.336.00

|
2nd, (Volume 1 to 4 of 2015 and Volume 5 of 2018)
The present Volume 5 of the digest covers the case-law on the Indian Penal Code, 1860 as laid down by the Hon'ble Supreme Court from...

Click on TITLE to choose available options.
Coverage: From 1950 to 2018 (in 4 Volumes) Volume 1 covering GENERALLY to BANKS (contd.)
HARDBACK:

Rs.3500.00

Rs.2975.00

|
The law governing Marriage, Divorce, Maintenance, Adoption, Guardianship and Custody of Children, Joint Family Property and Succession and Inheritance to property,...
HARDBACK:

Rs.6500.00

Rs.5525.00

|