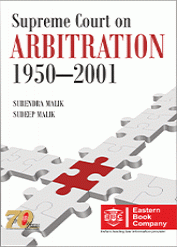 This superb two-volume
Volume I 1950-2001:


Rs.695.00

Rs.626.00

|
Volume II 2001-2012:


Rs.1095.00

Rs.931.00

|
1. Lectures on Administrative Law: The current sixth edition of this most sought...
1. Introduction to Arbitration discusses the Arbitration and Conciliation Act, 2006 and its predecessor...
1.Gumnami Baba-A Case History:
1. India: The Business Opportunity: The book India: The Business...
Three Lectures: Justice K.K. Mathew's Three Lectures is a lecture series intended to disseminate...