Important Dates
Length
4 Weeks
Effort
3-6 Hours Per Week
Institution
EBC Learning
Topic
Corporate Law
Level
Beginner
The objective of this module is to equip you with the following concepts:
1. Types of shares
2. Types of debentures
3. Issue of securities
4. Prospectus
You will find an in-depth analysis of practical situations where a company may decide to raise its capital through shares and debentures. How the company may decide to issue its shares and debentures forms an integral part of this module, comprising 20 videos and references to relevant sections of the Companies Act, 2013.
This course is specifically designed keeping in mind the syllabi of leading Indian law schools. Practitioners can use this as a refresher course, and anyone taking competitive examinations such as CS and CA may also take this course. In addition to the videos, this course also comprises the following:
1. Examination pointers
2. Assignments
3. Mind maps
4. Flashcards
5. Full texts of relevant sections
6. Links to the full texts of cases on SCC Online.
Instructor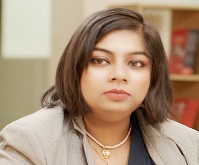 BIJETRI ROY
Bijetri Roy holds a master's degree in Public International Law from the Queen Mary University of London and is pursuing her PhD in Food Security and WTO from UPES, Dehradun. She has worked as a law lecturer at a law school in Delhi NCR where she taught Corporate Law. Prior to entering the field of teaching and research, she worked as a Legal and Marketing officer in the banking sector, before which she worked as a banking and finance lawyer at a boutique law firm, Orbit Law Services, Mumbai. Apart from her regular jobs, she has been actively involved in social service and was a pro-bono researcher in the areas of domestic violence and rape with Majlis Legal Centre under India's renowned feminist advocate, Flavia Agnes. Bijetri has also trained law students at a well known private law school in Mumbai for moot courts, public speaking and legal research methodology.