11th 2018, Reprinted With Supplement 2021

Click on TITLE to choose available options.
This Guide comprises international convertions, country reports and comparative analysis. provides an overview of the global framework of...

Hardback: Rs. 16,000.00

Rs. 13,600.00
The previous editions of this book have established themselves among the leading authorities on Swiss arbitration law.

Hardbound: Rs. 23,840.00

Rs. 20,264.00
This comprehensive book provides the full range of clauses, forms and documents needed by...

Hardback: Rs. 25,600.00

Rs. 21,760.00
Eleven teams of student participants attended the first Willem C. Vis International Arbitration Moot in 1993/1994. Twenty years later 290 teams from 67 countries plus a...

Paperback: Rs. 2,800.00

Rs. 2,380.00
This book provides a comprehensive article-by-article commentary of rules of arbitration of 16...

Hardback: Rs. 28,000.00

Rs. 23,800.00
This handbook deals with arbitration cases in Germany or cases governed by German law, both...

Hardback: Rs. 14,400.00

Rs. 12,240.00
The New York Convention is the most successful (and most important) treaty in the field of international trade law. This...

Hardbound: Rs. 18,400.00

Rs. 15,640.00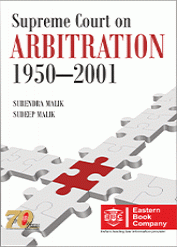 This superb two-volume
Volume I 1950-2001:


Rs.695.00

Rs.626.00

|
Volume II 2001-2012:


Rs.1095.00

Rs.931.00

|