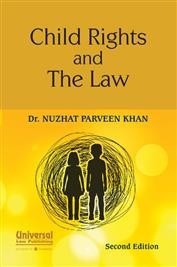 This second edition has been revised with additional material about the latest developments in the field of Child-Rights Law and Policy Regime. The data charts on the...

Paperback: Rs. 625.00

Rs. 531.00
Children, Social Science, and the Law integrates social science research, social policy, and legal analysis related to children and the law. It provides the most cutting-edge information available on topics such as...
Rs. 1,150.00
Rs. 1,035.00
The book contains four studies that consider the challenges of implementing the Convention on the Rights of the Child in different legal traditions or systems.
Rs. 7,200.00
Rs. 6,120.00
This new edition of 'Law of Adoption, Minority, Guardianship and Custody analyses wide spectrum of the Indian personall law of adoption and guardianship and custody of Hindus, Muslims, Christians...

Hardback: Rs. 1,495.00

Rs. 1,271.00
General ContentIntroduction: An overview on Juvenile Justice System in IndiaFundamental PrinciplesPoliceProbation OfficerJuvenile Justice BoardInstitutions - Observation Home & Special HomeState...

Paperback: Rs. 425.00

Rs. 361.00