This book deals with the suits relating to land and supplemental provisions under the Suits Valuation Act, 1987 (as amended in its application to Uttar Pradesh) and also discusses the Uttar Pradesh...
The Book delves deep in highlighting several laudable aspects of the Legal Services Authorities Act of which very few citizens are aware about. Laid out section-wise and...

Hardbound: Rs. 595.00

Rs. 506.00
The is the ninth edition of the book ``The Law of Injunction`` by Shri C. Mallikarjuna Row. The widespread response from advocates and judiciary alike in respect of this...

Hardbound: Rs. 1,895.00

Rs. 1,611.00
This book consists the extraes of important views and opinions from the judgments of Hon'ble Chief Justices of India since the time they became the associate judges of...

Hardback: Rs. 695.00

Rs. 591.00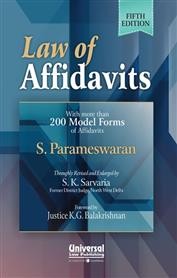 This book puts forward the view that a sound and satisfying foundation for a general and fully National Indian Law of Affidavits lies in our unalterable commiment to Vedas,...

Hardbound: Rs. 625.00

Rs. 531.00
A handy reference work for lawyers practicing on the civil side. Part 1 of the book traces the entire life cycle of a civil suit from the stage of institution to its conclusion. Part 2 of the book discusses all...

Hardback: Rs. 1,595.00

Rs. 1,436.00
In the 1980s the West German Peace Movement - fearing that the stationing of NATO nuclear missiles in Germany threatened an imminent nuclear war in Europe - engaged in massive protests,...
Rs. 5,525.00
Rs. 4,696.00
CONTENTSPART - I: The Court Fees Act, 1870 & The Suits Valuation Act, 1887PART - II: The Indian Stamp Act, 1899PART - III: The Registration Act, 1908PART - IV: Supreme...